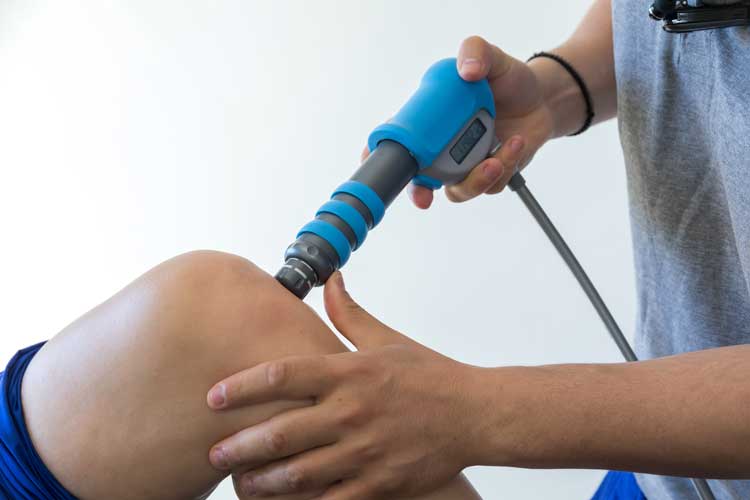 Extracorporeal Shockwave Therapy (ESWT) is a revolutionary technology that involves shockwaves being passed through the skin to the injured part of the body. The shockwaves are made up of compressed air that is passed at high speed from a hand-held applicator.
The audible, low energy sound waves work by increasing blood flow to the injured area, stimulating cell regeneration and healing and decreasing local factors which can cause pain.
Shockwave Therapy is the most advanced non-surgical and non-invasive treatment available for a wide range of conditions including plantar fasciitis, achilles tendinopathy, hip bursitis, tennis and golfer's elbow, Osgood Schlatter disease, subacromial shoulder pain and calcific tendonitis of the shoulder.
Shockwave Therapy is administered using the pioneering and globally recognised Swiss Dolorclast unit. A course of four treatments, one week apart, is recommended, with a 6-week review period following the fourth treatment. This will give the body time to adapt and allows the shockwaves to effectively treat the pain centres. A further course can be applied for long-term improvements.
The Shockwave Therapy treatment is administered by one of the Square One specialist therapists who are Academy trained and CPD qualified.
During the initial assessment, the treatment will also be administered if appropriate. Ultrasound may be used with shockwave therapy to achieve an overall improvement in treatment outcome.
Although the actual treatment lasts no more than 15 minutes, each treatment session will include education, advice and an appropriate post-treatment plan to further support your recovery.
When Shockwave Therapy may not be suitable – contraindications.
While Shockwave Therapy is suitable for a large number of conditions with minimal side effects, there are some conditions, also known as contraindications, that means this treatment is not an option.
Shockwave Therapy is unsuitable in the following circumstances:
If you are pregnant
If you have a blood clotting disorder (including thrombosis)
If you are taking oral anti-coagulants
If you have received a Steroid injection within 6 weeks
If you have a pacemaker fitted
If tumours are present at the treatment site
If you have an infection or skin abrasion at the treatment site
If you are Under 18 (except in the treatment of Osgood-Schlatter disease)
Any treatment over an air-filled area such as the lungs or guts
The Swiss Dolorclast Shockwave Therapy method:
Shockwave Therapy: NICE guidelines:
The National Institute for Health and Clinical Excellence (NICE) issues guidance on medicines, treatments and procedures. NICE is a special health authority of the National Health Service (NHS).
Read the Nice Guidelines on Extracorporeal Shockwave Therapy here:
I have been suffering with tension headaches on and off for a couple of years now. I tried everything to get them to go away to the point where I thought they would never go and it was really taking over my life. I saw Jenine on a recommendation and I finally have them under control. Jenine is really friendly, easy to talk to and a great professional who really knows her stuff, I would not hesitate in recommending to anyone who needs help.
I have been to Laura twice with severe back pains caused by a problem hip. She has sorted out the pain with the minimum fuss. I would strongly recommend the clinic, the booking system is easy and everyone is charming and friendly, not to mention a super physio.
Providing the essential expertise required for the recovery from a total knee replacement. Excellent progress after 9 weeks.
Exceptional care and personal service. The team are professional, knowledgeable and very helpful when explaining the various options for treatment. I have been visiting Square One for a few years with various complaints and would highly recommend this clinic to anyone.
I saw Laura today after suffering from severe back pain, since Saturday afternoon, I have been unable to walk without pain. Laura assessed, diagnosed and treated me with such professionalism and expertise. I am now able to walk with much more ease and I have been given exercises to do before she sees me again on Friday. I am so grateful that you are remaining open throughout this difficult time. Thank you.
I have had a long-standing issue with severe sciatica for more than 12 months due to a prolapsed disc. It had got to the point where I needed some professional help and advice so as to move forward with the injury. The improvement in a matter of weeks has been amazing. I will totally recommend this company to anyone that needs physiotherapy. Great value for money based on the profound effect made on my everyday life.